---
We have something extremely special for Weekend Warrior Edition #5. 2020 has been one hell of a year. For some, this year will irrefutably go down as the most tumultuous and sinister year. For others, 2020 was stern but forgiving, with signs of promise for the morrow. My year was a little bit of both but with one overarching truth: it would've been far worse without these amazing people I'm fortunate enough to call my friends. This W.W. edition is more of a November project recap. I hosted friends for a wine and food pairing, four-course Famsgiving Dinner!
Projecting Time: 1 month to prepare, 2 hours for blog post.
Famsgiving 2020
Living in an apartment away from maternal culinary convenience has inspired me to learn how to properly cook. Luckily for me, my apartment has great access to a handful of markets, even the local Farmer's Market, which means easy access to a ethnic variety of groceries – American, Italian, Chinese, etc. Not too many people can tolerate eating the same foods every day, and it's certainly the same with cooking. During my first few months in SF, I made familiar, homestyle East Asian Cuisine, perfecting dishes from my childhood, Japanese/Korean classics, and a variety of asian soups. When winter came, I, for no other reason than curiosity, began learning to cook European food, the culinary basis of this Famsgiving dinner.
Now, where did the idea of a four-course wine and food pairing come from? Throughout the fall months, I went on a number of trips to Napa in search of another vineyard member. I'm a big fan of wine, especially reds, and I'm extremely grateful to have so many California Cabs nearby. Sadly, these trips were lackluster, for I could not find another vineyard that matched the quality and value of my current membership at Hestan Vineyards (s/o Neil Liu). I'll write a more detailed post about Hestan some other time, but for now, all that needs to be said is that they're amazing. Every time I would visit Napa, I would stop by the Hestan tasting room to see what bottles they had open. They usually had at least one wine open that I hadn't tried before, so visiting never disappointed. Upon returning from Napa one trip, I thought of a great idea: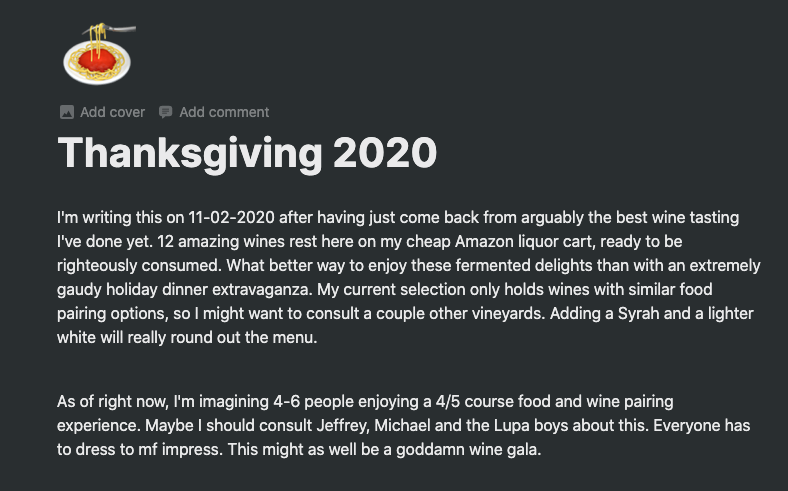 After I had the idea, I just ran with it. There was a lot to plan and prepare, and since I've never done anything like this before, there was lots of work to be done.
Preparation
First things first, this dinner needed a theme and I had just the perfect one in mind.
Family first, family always.
For a dinner of such an extravagant theme, I needed to figure out what dishes to serve the most deserving of participants. I knew I couldn't manage serving more than 10 people, so I settled on a maximum of six people attending – six of my closest friends. Not too tall a task.
Now came the hard part, what in the world am I going to cook. Seeing that I was on a European bender, this was perfect opportunity to further that initiative. But even before deciding on dishes, I had to settle on the structure of the meal. How many courses should I serve? Is there a wine pairing with every course? How large should each course be? I found the best way to tackle this was to first decide on the wines that I wanted to share with my friends. For six people with average stomach size and alcohol tolerance level, four bottles seemed appropriate.
Now, which varieties of wine should I pour? This would have been an extremely difficult problem if I opened myself to all possible wines, so I'm glad I chose to pour only Hestan wines. A quick plug for Hestan. They have an amazing, deep selection of reds – everything from a playful Grenache to whimsical blends to the classic Napa Cab. They also have some of the best Chardonnay I've ever tried too, but I eventually ruled it out for the sake of simplicity. After shuffling around some wines, I found four that I thought would tell a promising story if set with the proper food. Four wines for four courses, a great place to start.
Multiple course meals are exceedingly complex. After struggling to plan a meal with only four courses, I have the utmost respect for chefs who do this every day and oftentimes with many more courses. I spent 2/3 days researching different types of foods I wanted to make and eventually came up with this menu: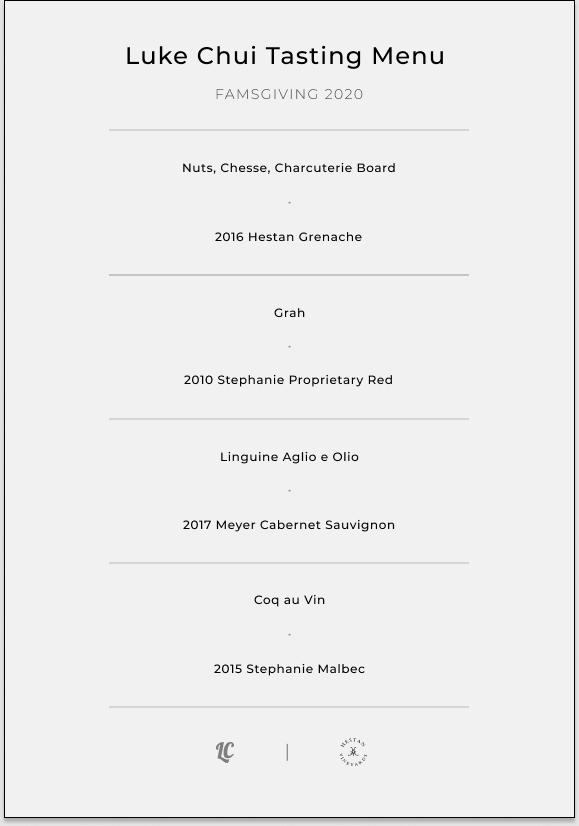 As shown above, I tried my best to cover the entire continent – France, Italy, and most importantly, Croatia. When I chose those dishes, I had also never made them before, so it was time to get practicing. I prepared meticulously. The operations of a kitchen are often misunderstood yet still respected. No one truly understands how much of a logistical nightmare it is for a restaurant to prepare for dinner. Everything from the number of carrots needed that night to how long it takes to cook the pasta must be considered and accounted for. I tried my best to practice and further plan with these issues in mind. I first learned to make the dish as tasty as possible and second learned to cook each dish as efficiently as possible.
All that practice is absolutely necessary to run smoothly on the day of the dinner. I had a mental note of when I wanted to serve each course, how much to serve everyone based on their appetite, when to decant the wine if necessary, and more. All that's left is to execute.
Time for Dinner
After everyone arrived, I started the night with the first course: Contorni.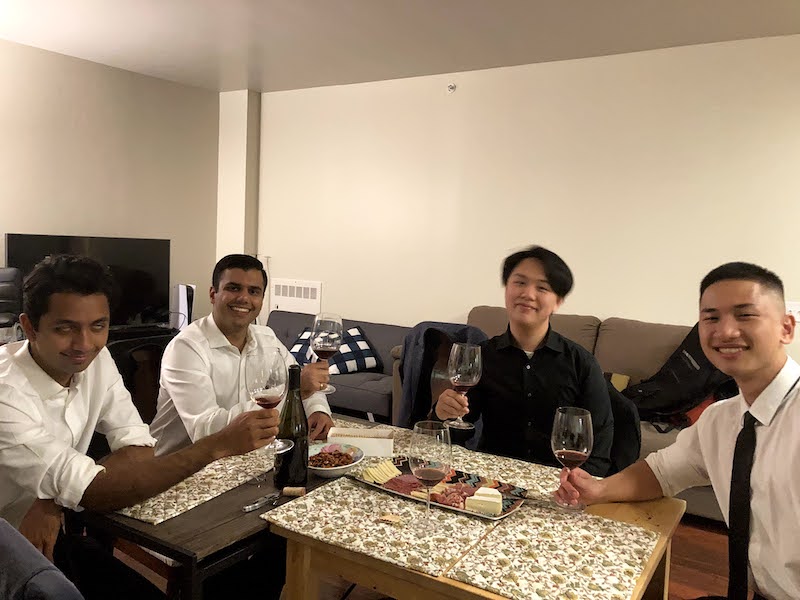 Contorni are small dishes that are often served at the beginning of a meal. I served almonds roasted in rosemary and Himalayan salt and a cheese and charcuterie board, which I paired with the 2016 Hestan Grenache, a 100% Grenache wine that's young and energetic. The perfect wine to start the evening.
---
The second course is Antipasti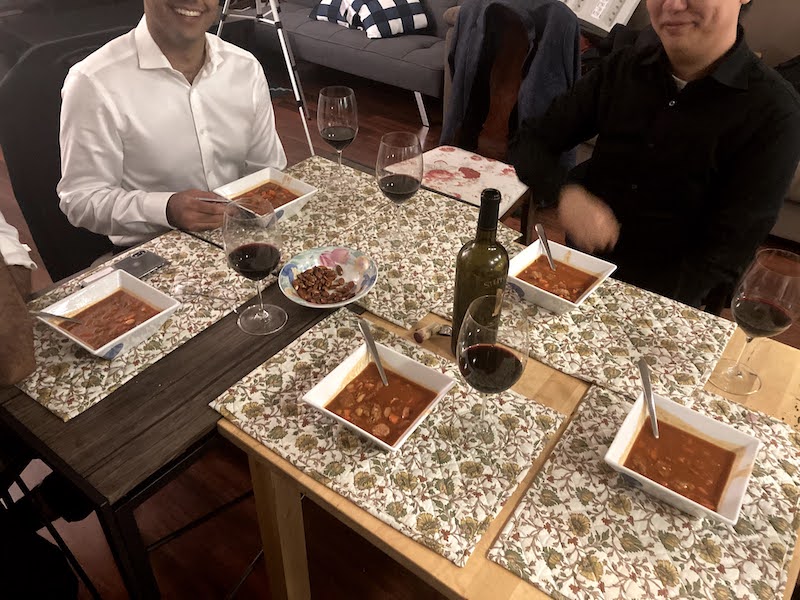 Antipasti is the first course of an Italian meal. Hopefully, I'm not disrespecting any Italians when I say that I served a staple Croatian dish: Grah, a bean and sausage soup. I paired this with the 2010 Stephanie Proprietary Red, majority Cab Sauv and Petit Verdot. A semi-bold blend to go along with this heartier soup.
---
The third course is Primi.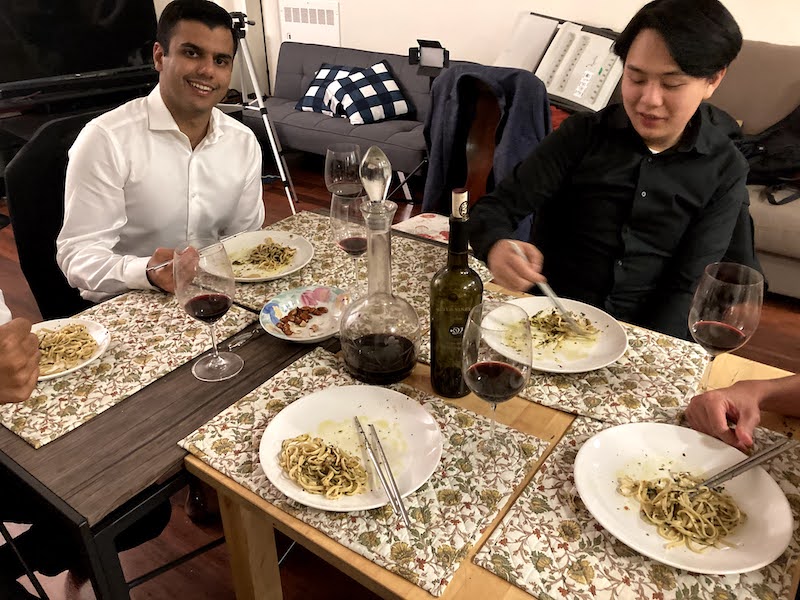 Primi is referred to as the "first dish," and I tried to do the Italians proud by a national favorite: Aglio E Olio (s/o Jon Favreau). This pasta is rather light and simple to make, but packed with savoriness. I took a risky choice and paired this with a 2016 Meyer Cabernet, a wine that is smokey, sweet, aromatic and deep. To soften its boldness, I made sure to decant it for a little longer than I usually would. Good thing none of my friends are wine experts.
---
Last but not least is Secondi.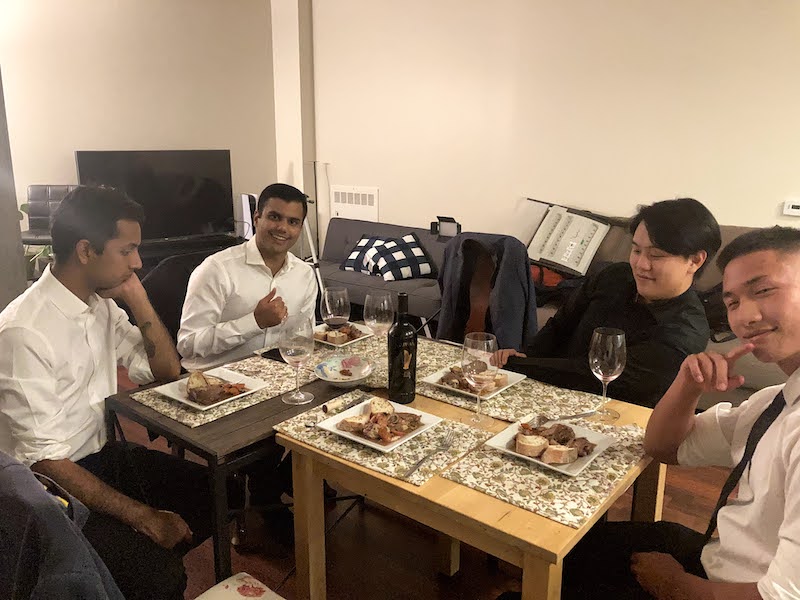 Secondi is the meat or fish dish of the meal and usually the most extravagant. I wanted to show the French some love and served a fan favorite: Coq au Vin. As the name suggests, this is chicken and wine with vegetables that excel in thick sauces. I paired this with one of my favorite wines from Hestan, the 2015 Stephanie Malbec, 93% Malbec that boasts a fruitful medley with smooth, mildly smokey undertones. A wonderful wine to round out the night.
---
What did I Learn
This whole experience was more than what I hoped for. I learned to cook some new tasty European dishes, hosted an overtly bougie dinner for some of my cloest friends, and deepened my understanding and empathy of fine dining. I will certainly be doing this again soon.
Now, some more shoutouts:
Jeffrey Lei for helping craft the menu. This man loves Italian food and cooks way more than me.
Laura Kim, it's a shame you had a conflicting arrangement, but you were with us mentally and spiritually.
Hestan Vineyards for supplying these amazing wines.
Lupa/Ideale/the movie Chef for deeply inspiring this menu.
---
Cover photo: the Famsgiving Boys
---