---
Crushing at the Local Crag
For nearly the past three years, rock climbing has been a big and continually growing part of my life. Fun fact: it was actually my old CS professor and now close friend, Carey Nachenberg who took me outdoor climbing for the first time and seriously got me into the sport. I started my climbing journey by joining him and friends on outdoor top rope/sport climbing trips, and that's where the love for crushing began. When people ask me about why I enjoy climbing, I tend to highlight two aspects – the community and the doors it opens to traveling around the world. The climbing community is one of the most selfless and supportive communities I have ever been a part of. From my local indoor gym and some outdoor trips, I have met some people who I can proudly call lifelong friends. Climbing has also taken me to beautiful pockets of nature all over the world (many California national parks, Texas, Massachusetts, Sweden, and more!)
Recently, I started establishing concrete goals for myself in various aspects of my life. For climbing, that goal is to Climb V10 Outdoors by the end of 2020. Unfortunately, there have been unforeseen obstacles for this goal that I am actively trying to work around. Without access to a gym to train or outdoor parks to project hard boulders, options appear sparse, but in reality, with the help of the internet and some creativity, every climber can work through these hard times and stay in peak crushing form.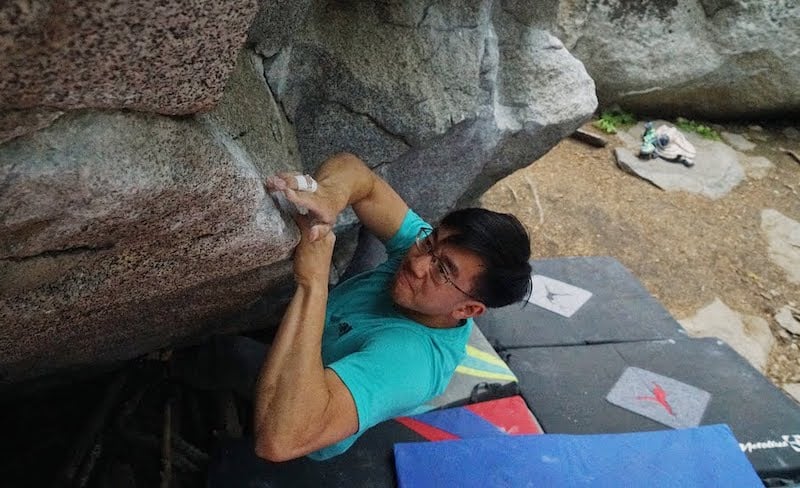 Hotos and Handtools (V8), Lake Tahoe, CA PC: @samdaulton
To Youtube!
Given the perpetually deteriorating state of the world, climbers worldwide are now constrained to their home gym setups and online resources to stay in top climbing form, physically and mentally. To keep my psyche high, I have been aggressively consuming all sorts of climbing content on Youtube/Instagram – outdoor sends and indoor vlogs for the motivation and related training videos for the fitness. Here's some stuff I enjoy!
Indoor/Outdoor Crushing
Mellow Climbing: some of most insane outdoors sends we have ever seen featuring Jimmy Webb, Daniel Woods, and some of the world's strongest climbers.
Any sick boulders/sport routes in Bishop, Lake Tahoe, JTree, Red Rocks, other national parks
Almost every outdoor climbing video on my ig explore page
Erik Karlsson Bouldering: my favorite climbing vlog channel from Sweden, insightful climbing analysis from an awesome climbing crew. (I also met Erik last year!)
IFSC Highlights/Comps: Streams/highlight reels of professional climbing competitions
Training at Home
Lattice Climbing: goto for all things training – conditioning, test sets, tracking/analysis, etc.
Hoseok Lee Climbing: korean moonboard crusher with content for beginner/intermediate climbers
A bunch of videos for finger strength/pull strength/core/power endurance
It's a damn shame that climbers around the world have to resort to bootstrapped setups in their garages/backyard. Luckily, I have stayed sane by watching a plethora of sick outdoor sends and am attempting to maintain fitness with my portable hang board and pull-up bar. Let's hope this pandemic settles soon so everyone can bring their pads and quick-draws outdoors for some hardcore sending!
---
Cover Photo: pro climber Jimmy Webb crushing Off the Wagon Sit (8C+)
---