---
Saying goodbye is never easy. To avoid a possible heartwrenching experience, most people make a meager attempt – for folks in their mid-20s, a limp toast of liquor – to honor their friendship with another, wishing them "well" on next adventure. This past weekend, I had the utmost displeasure of having to bid my girlfriend adieu (shes going abroad for work for a couple months), but I had no intention of resorting to some flimsy gambit. She deserves at least a morsel of effort from me; and that is why I decided to enjoy a three-course home cooked meal together with her.
Projecting Time: 2 days to prepare, 8 hours to execute, 1 hour for blog post.
The Calm Before the Storm
The key to any successful meal lies in the prepration. Most people think preparation means only the cutting and laying out of ingredients, and though those steps are important, prepration, in reality, spans all steps before the any ingredient is cooked – crafting the menu, sourcing ingredients, chopping, creating a cooking schedule, arranging kitchen equipment. Performing every step thoroughly and with diginity ensures meal's success.
Unlike Famsgiving 2020, the requirements of this meal are much simpler. The only thing my girlfriend wanted to do was to "open a wine bottle over dinner". Easy enough. Next step is to decide on the size of the meal. Luckily (I think), the amount she eats is proportional to her size (not outrageously large), so I decided that having fewer courses with more dishes would work great. Keeping those in mind, I began designing the menu based off of the following guidelines:
Pairs with red wine.
Choose dishes I think she will enjoy eating. My girlfriend is by no means a picky eater, but she, like everyone else, has her preferences.
Choose dishes that will challenge me. I want to learn new cooking techniques and explore different tastes.
Include a dessert option because she loves dessert.
After spending a day watching videos and studying recipes and an hour on Figma, I came up with the following menu:
I won't get into the specifics of how and why I chose each dish, but I will say I took into consideration the guidelines above along with important ideas such as execution feasibility (dinner could only take a few hours), including cross-cultural flavor profiles, and maintaining a respectable level of bouginess.
The Feast
At long last, all the necessary preparations have been made, and it was finally time to start our meal! We started course one about half way through the cooking of course two because as every chef knows, much enjoyment in a multiple course meal comes from the timing. Bolognese is notorious for taking hours to cook and crepes are one of the quickest desserts to make, so time was on our side.
Course 1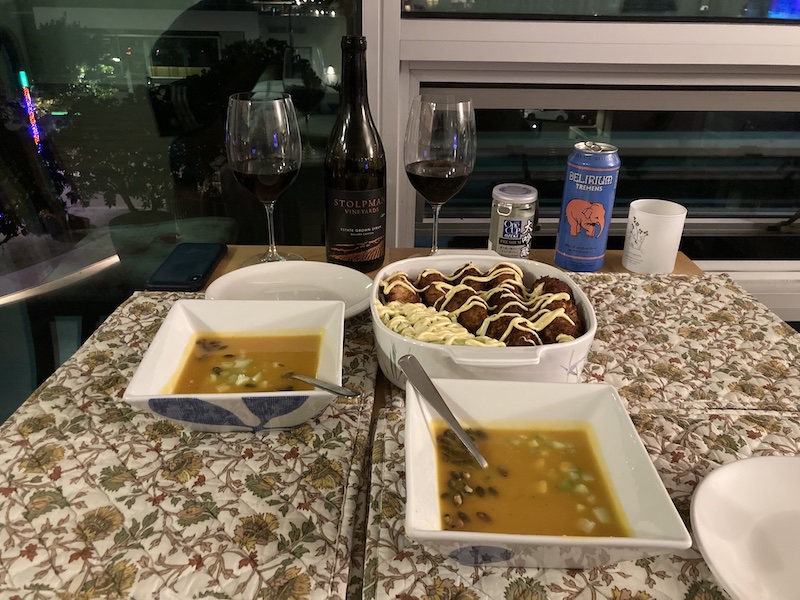 The start of a multi-course meal should be light and engaging. It should wet the appetite and establish a sensory launching pad for future courses. For the first course, I served two Asian inspired dishes. A butternut squash soup topped with roasted pumpkin seeds and diced cucumber along with Japanese croquettes with Swiss and Romano cheese and a side of shredded cabbage all topped with Japanese mayonnaise. The food came with appropriate drinking pairings – a Syrah (second to a Grenache as a starter wine), a cold can of sake, and a 16oz. can of Delirium Tremens Belgian Ale.
After eating, more specifically devourouing, this course, I found myself wanting to further explore the pairing of a thicker (not thicc) soup with a delightful fried friend. The squash soup boasted many intriguing elements – smooth granualted earthniness from the blended squash, slight sharpness from the white pepper, a texture medley from the pumpkin seeds and cucumber – where each element shone individually but excelled more banded together. The croquettes served as a noble platform for what might just be my new favorite sauce in Japanese mayo.
Course 2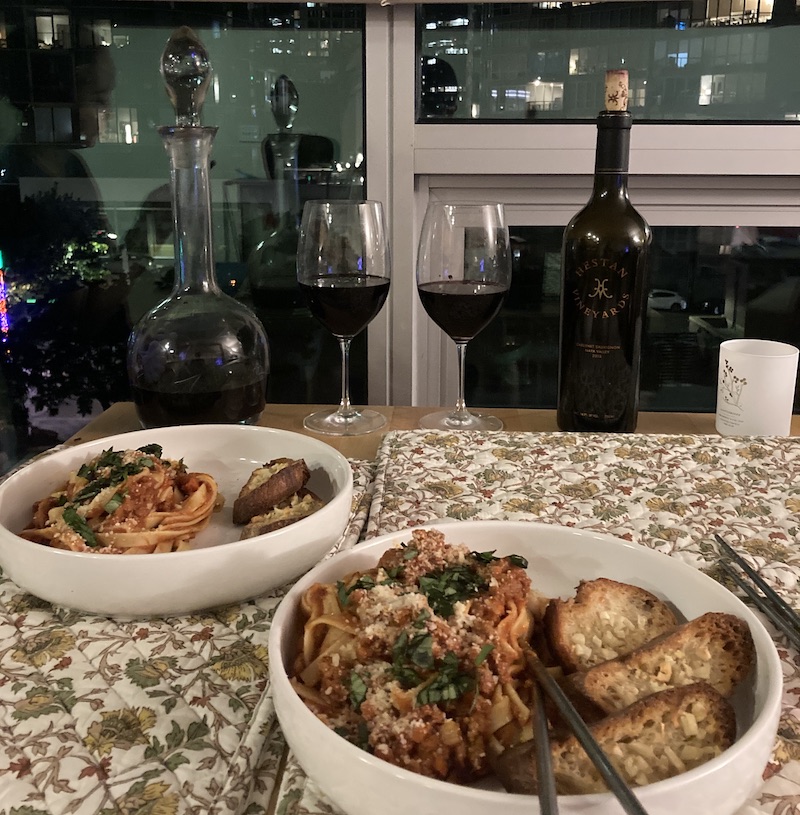 I guess you can consider this course – comprised of hearty meat and saucey pasta – a combination of Primi and Secondi. I chose to serve a lamb bolognese alongside serveral slices of crunchy garlic bread. Longtime followers of this blog will know that I am a loyal patron (brand ambassador) of Hestan Vineayrds, which only meant that I had to pair at least one course with a Hestan wine. For this, I went with one of the best cabernet sauvignons I've ever had the pleasure of tasting: the Hestan 2013 Cabernet Sauvignon, 100% cab aged in 80% Oak and a proud member of the 90+ point club (93 pts).
Not much else to note here. This course was phenomenal. We both love lamb hence the decision to substitute it when where beef is traditionally used. Neither slow cooked meat sauce nor Hestan Cab (their trademark variety) misses.
Course 3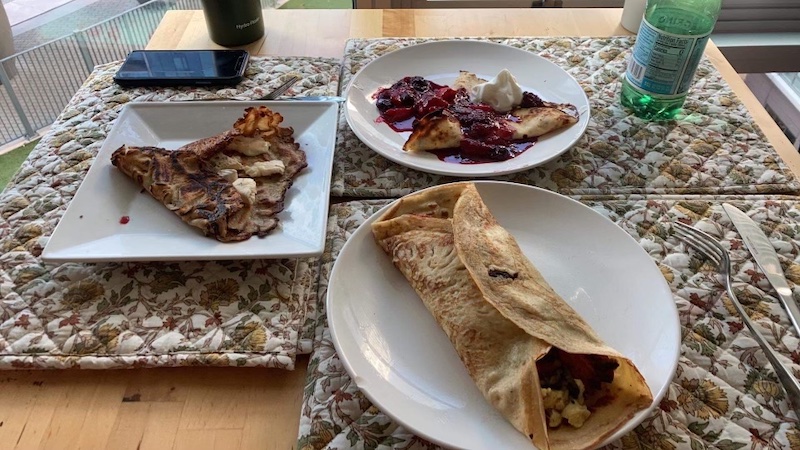 Soon after a delicious lamb bolognese, we went straight to course three, eating and drinking side by side until the break of dawn. Just kidding. We actually had to leave right after finishing the pasta to go to a goodbye party (she's so popular). But that meant that we had to make Course 3 for lunch the next day.
As mentioned above, my girlfriend relishes dessert. If we had made the crepes last night, we would have altered the menu to make only sweet crepes, but because we cooking these around lunch time, making both sweet and savory crepes, as described originally by the menu, made more sense. After eyeballing the measuremants for a respectable amount of crepe batter, we learned that we had enough for three crepes, two savory and one sweet. Improvising a little (as great chefs do), we decided for the sweet crepe (her idea) to assemble it with a mixed berry sauce and for the savory crepes (my idea) to have one with garlic brie cheese and the other with a cheese, mushroom, bacon and egg scramble.
Turns out, cooking crepes is rather straightforward. The batter needs only a couple minutes of whisking and even less time frying in a pan. The filling and plating took far longer. As you can see from the photos, we tried to have some Masterchef level presentation but had to settle for only Masterchef level flavor! The savoryness of the brie crepe fit well the richness of the egg scramble crepe; and the mixed berry crepe was a lovely finish to the meal.
Shoutouts
As always, I have to give credit to where credit is due. This meal would not have been possible without the resources and help I received throughout the week.
Shoutout to my girlfriend for sharing this meal with me. Everything from the prep to the eating.
Shoutout the TV show, Master Chef. Tons of inspiration for plating and food combinations.
---
Cover Photo: Lovely stock photo of a romantic dinner table courtesy of unsplash.
---