---
After a brief hiatus, we are finally back with another edition of the Weekend Warrior Series, Episode #6. So far, I have not made great progress on the goals I set for myself this year with the exception of one – Climb V10. After sending Wicked, I feel much more confident that this goal not far from reach.
Projecting Time: 4 sessions ~5 hours each so ~20 hours total on the bloc, 2 hours for blog post.
Wicked (V9)
Most people who climb outdoors regularly in the Bay Area have probably heard of this climb. It's located in a ravine right off the side of the road bridging Marin and Stinson Beach; incidentally, the bloc itself is called the Ravine Boulder. The boulder has a couple other fun routes (cool toe-hook, burly V6 and two V7s). Wicked is simply the route that connects the two V7's together, making for a 12/13 move power endurance problem with fun, potentially heartbreaking movement.
May 15, 2021
These last six months I've been focusing on my endurance to build a base for the year's training. I'll try to write another post on it later to talk about different climbing endurance training methods, but for this post, all I have to say in regards to this climb is that it is an earnest, power endurance test piece. I'm glad it sent it.
This climb starts with a solid heel-toe cam on a deep, glassy edge and hands matched on the adjacent rail. Pull up and reach up the well-textured sloper on the rail. Left hand matches right. Toe into the chip below the start and bring the heel the match the toe.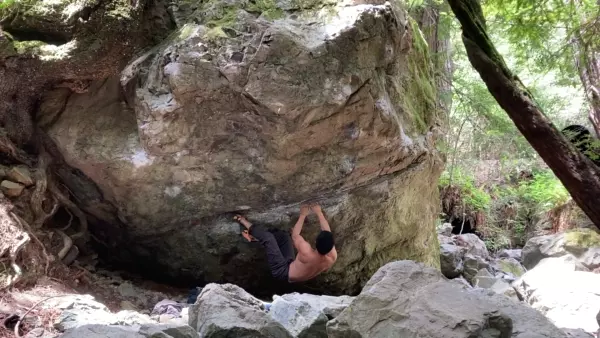 During my second and third sessions, I must have fallen on this next section at least 15 times and tried new beta for these next moves the same amount of times. Here's the beta that worked best for me:
Hands matched on the juggy sloper and heel-toe on the start hold, reach out right to a slopey, sharp crimp, drop the right toe to rotate the hips in, and move left hand to where the right was before. Bring the right toe to a closer chip and match the left heel and hand. Good tension and big move right to a slightly greasier, slopey crimp.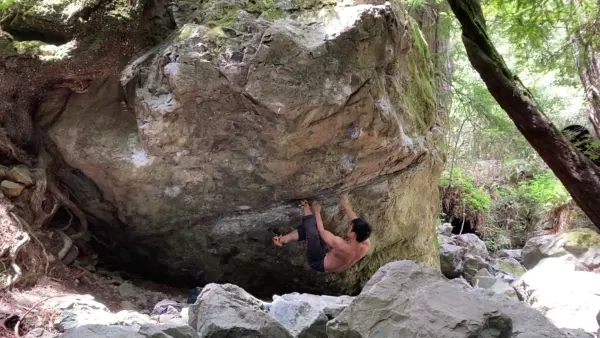 Now, comes the burly section. Dig the left heel in and left hand up to a small crimp that feels surprisingly solid. One powerful move out right to the sloper over the lip. It's a bit daunting, but when you catch the small tooth correctly with your second and third fingers, the sloper feels really good. Left hand in to the deep, glassy sidepull.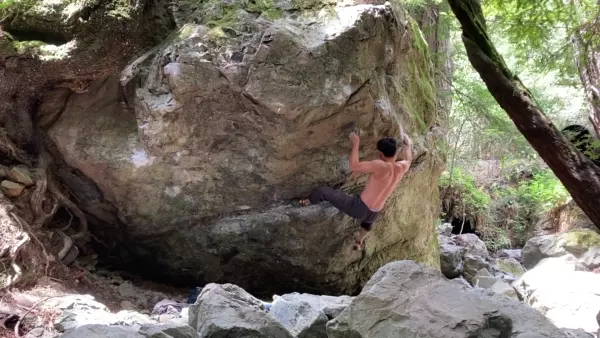 From here, I'm feeling pretty pumped, but there are only a couple moves left. Bring right foot onto a good edge, core up, and one burly move to the Spock hold (I catch it with my hand in the Spock sign, haha). Readjust if necessary and left hand up and into the deep gaston.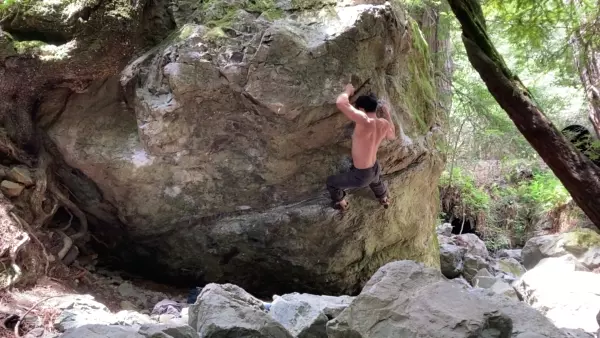 Two moves left. Move the right foot higher and pull through into the sharp, right hand crimpy side-pull. I almost split my middle finger every session on this move, so be careful! Left foot up to the left crimp, bring the right foot as high as you can, and one last powerful move to the top jug.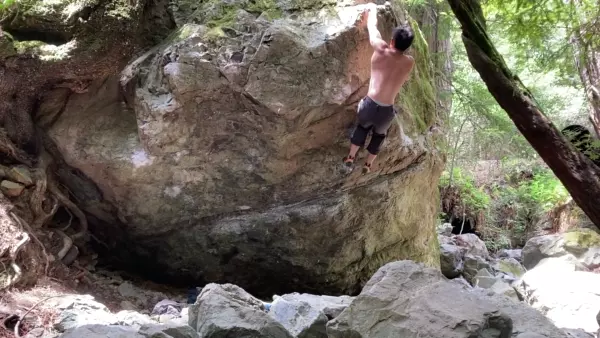 At last, there's a good rest, so shake out and find the good left foot chip. Dig the foot in, find some good holds for your hands and exit up and left.
And, there you have it, Wicked, Ravine Boulder, Mount Tam! This climb was definitely a juicer. Would not want to do it again, haha.
Feel free to check out the full climb here.
---
Special Shoutouts
Jeffrey Lei for the support during one hot, sweaty sesh
Some Dogpatch Boulders crushers I met my first time trying this bloc.
Hao Nguyen for showing me the light with .webp format.
---
Cover Photo: a small look into the forest within Mount Tamalpais
---